GCL System Integration (GCLSI) announced that it won the All Quality Matters Award for PV Module Energy Yield Simulation at the solar congress 2020 hosted by TÜV Rheinland.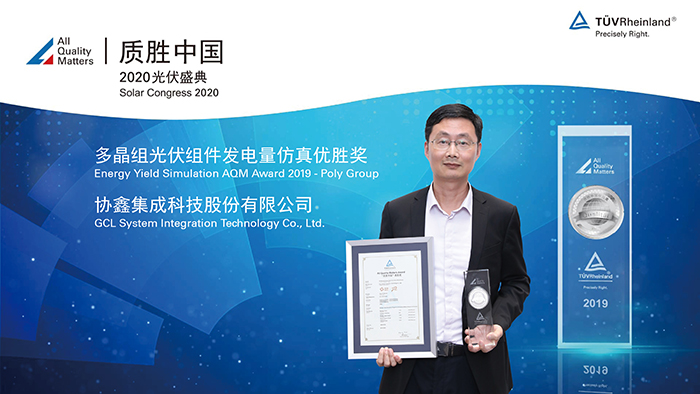 The All Quality Matters Award is the most competitive and credible evaluation for renewable products including PV modules, inverters, energy storage systems, and so on. As the award winner of "the PV Module Energy Yield Simulation", GCLSI's modules have identified their power generation capability under the test of "Energy Yield Rating Label" initiated by TÜV Rheinland.
The energy yield simulation evaluation is to test the performance of the random selected modules from the mass production under simulated conditions, and to estimate the energy yields of the modules in different regions such as China, Germany, Saudi Arabia, Brazil, and India. With excellent power generation and quality assurance in the industry, GCLSI stands out among many competitors and wins the energy yield simulation award in poly group.
GCLSI chooses "Diversification" + "Differentiation" product strategy, to meet the customers' needs under the dynamic market situation. Currently, GCLSI is providing high efficiency products like dual-glass module, as well as energy storage system to the global market. By innovating PV products and providing value-added services, GCLSI has proven its competitiveness in the PV industry.